Web Designer
Nice to e-meet you!
My name is Petia Koleva, or just Petia.
Web Design By Petia Koleva
Web design? You are reading this text, most probably because you need a new site or web design services. I'm Petia and I'm a web designer. Nice to e-meet you!
I'm professionaly doing web design for more than 5 years. I've been employee and now – I'm managing my own business under the name MySuper.Site. For this period of time I've created hundreds of sites in all niches and with different kinds of functions. In May 2019 I was featured in top 50 of Freelance Web Designers and top 20 of WordPress Design by Clutch (with 7000+ agencies and freelancers registered). 
I work with WordPress, Joomla, Prestashop and other CMS. That allows me to offer great prices and terms. And a lot of functions. Some of my projects you can check in the portfolio.
A Little More About Me
I'm interested (and doing) web design since the time when for search was used Alta Vista, not Google. The sites were made of a few static pages, each of which was individually made. I also went trough the "flash era" – making sites with all kinds of flying effects. It took them forever to load, but it was something that was keeping the user's interest (in contrast of now 😀 ).
So, for about 10 years I was doing simple sites. Let me clarify that I'm 32 years old and I've been working with computers since '93-'94, and with Internet and sites since '99-'00 (yeah, when you had to buy a voucher with megabites from the post office to use it with your modem). During this decade I was practising web design as a hobby, toghether with drawing. And got my bachelor degree in psychology. Today I realize that exactly this combination works great – professional knowledge in psychology, so I can know how the user thinks; amateur interest in drawing – so I can know how different elements suit each other; and in the past few years – professional experience in web design and site creation.
But let's contiunue with this short story. In the beginning of the new decade (around 2010) I began studing CMS and templates. And by studing I mean I created a few sites – with video and songs collections for children, flash games sites, parenting blog. I had to stop working on those sites when I chose web design as my profession, since time wasn't enough. I used my free time for learning new stuff in web design and site creation, in order to make better and better sites.
And that's till today. I keep studing all the time – because in this field everything changes pretty fast. And that's one of the things I love most about it. Now, since web design is my profession – my hobby is SEO. Not only because you cannot do the first without the latter, but because SEO is also quickly changing and you cannot get bored.
For more than 10 years I'm working in services field and with clients. I know that the client is always right. But I also know that you want my professional advice – and I gladly give it. For you to have a working, beautiful and effective site is my purpose. Because I love my work and I want to be recommended and challanged with all kinds of projects.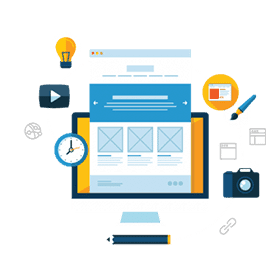 Business site design
from 130 BGN
I offer both creating your site with a ready template, and creating a brand new theme for your services. In both cases you'll receive an effective and mobile friendly site, 100% ready for SEO and with pretty nice functions.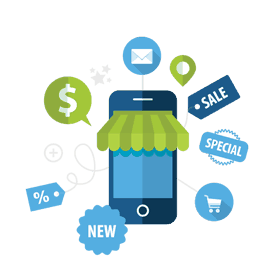 E-Commerce Sites
from 250 BGN
E-commerce site without limitations in the number of products and categories. With useful payments and delivery options, easy administration. You can choose from a template design or an individual design.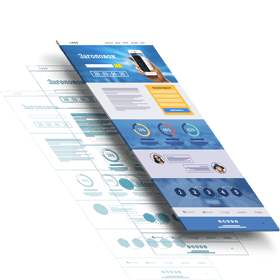 Landing page creation
from 130 BGN
The Landing page (like the one you are currently browsing) is an effective and modern way to popularize your services and getting conversions. The main purpose is the conversion itself, i.e. this type of page is focused on sales.
Other Types of Sites
from 250 BGN
Unlimited number of sites with all kinds of services - real estates sites, ads sites, hotels and guest houses sites, tourist agencies sites, marketplace sites, transfers sites - you name it. Send your free quote request.
You were really fast and competent and all that was asked from you – was professionaly made. Your brand "MySuper.Site" totally describes your work and the result.
It was really nice to work with you. I'm satisfied with my sites and I'll recommend you to my friends. I'm keeping your contacts for future projects. I wish you luck.
Petia exceeded our expectations in all aspects of our project. I recommend her for any type of sites – for companies of all sizes.
Let's Talk About Your Site
eyJpZCI6IjEyIiwibGFiZWwiOiJMZXQncyBUYWxrIiwiYWN0aXZlIjoiMSIsIm9yaWdpbmFsX2lkIjoiOCIsInVuaXF1ZV9pZCI6ImJqbDE3YyIsInBhcmFtcyI6eyJlbmFibGVGb3JNZW1iZXJzaGlwIjoiMCIsInRwbCI6eyJ3aWR0aCI6IjEwMCIsIndpZHRoX21lYXN1cmUiOiIlIiwiYmdfdHlwZV8wIjoibm9uZSIsImJnX2ltZ18wIjoiIiwiYmdfY29sb3JfMCI6IiNlZmYxZjYiLCJiZ190eXBlXzEiOiJjb2xvciIsImJnX2ltZ18xIjoiIiwiYmdfY29sb3JfMSI6IiMwYzBiMGEiLCJiZ190eXBlXzIiOiJjb2xvciIsImJnX2ltZ18yIjoiIiwiYmdfY29sb3JfMiI6IiMyZjVhNzgiLCJiZ190eXBlXzMiOiJjb2xvciIsImJnX2ltZ18zIjoiaHR0cHM6XC9cL3N1cHN5c3RpYy00MmQ3Lmt4Y2RuLmNvbVwvX2Fzc2V0c1wvZm9ybXNcL2ltZ1wvYmdcL2JnX3N1cHBvcnRfZm9ybS5qcGciLCJiZ19jb2xvcl8zIjoiI2YxNWI3NCIsImZpZWxkX2Vycm9yX2ludmFsaWQiOiIiLCJmb3JtX3NlbnRfbXNnIjoiVGhhbmsgeW91IGZvciB5b3VyIHJlcXVlc3QuIEknbGwgYW5zd2VyIHNob3J0bHkuIiwiZm9ybV9zZW50X21zZ19jb2xvciI6IiMwMDAwMDAiLCJoaWRlX29uX3N1Ym1pdCI6IjEiLCJyZWRpcmVjdF9vbl9zdWJtaXQiOiIiLCJ0ZXN0X2VtYWlsIjoiY29udGFjdEBwZXRpYWtvbGV2LmNvbSIsInNhdmVfY29udGFjdHMiOiIxIiwiZXhwX2RlbGltIjoiOyIsImZiX2NvbnZlcnRfYmFzZSI6IiIsImZpZWxkX3dyYXBwZXIiOiI8ZGl2IFtmaWVsZF9zaGVsbF9jbGFzc2VzXSBbZmllbGRfc2hlbGxfc3R5bGVzXT5bZmllbGRdPFwvZGl2PiJ9LCJmaWVsZHMiOlt7ImJzX2NsYXNzX2lkIjoiMTIiLCJuYW1lIjoiIiwibGFiZWwiOiIiLCJwbGFjZWhvbGRlciI6IiIsInZhbHVlIjoiPGRpdiBjbGFzcz1cImFib3V0XCI+PGltZyBzcmM9XCJodHRwczpcL1wvcGV0aWFrb2xldi5jb21cL3dwLWNvbnRlbnRcL3VwbG9hZHNcLzIwMTlcLzAyXC8xNTg5NDg5MF8xMDIxMDkyODMyMzc3OTE3NF80MDkyODg5NDc0MTgyNzQwNjIwX24tMS5qcGdcIiB3aWR0aD1cIjE1MHB4XCIgaGVpZ2h0PVwiMTUwcHhcIiBcLz48XC9kaXY+PHAgY2xhc3M9XCJkZXNjcmlwdGlvblwiPllvdSBjYW4gY29udGFjdCBtZSB1c2luZyB0aGUgZm9ybSBiZWxvdywgb3IgdXNpbmcgdGhlIHNvY2lhbCBuZXR3b3Jrcy48XC9wPiIsImh0bWwiOiJodG1sZGVsaW0iLCJtYW5kYXRvcnkiOiIwIiwiYWRkX2NsYXNzZXMiOiIiLCJhZGRfc3R5bGVzIjoiIiwiYWRkX2F0dHIiOiIifSx7ImJzX2NsYXNzX2lkIjoiMTIiLCJuYW1lIjoicXVlc3Rpb24iLCJsYWJlbCI6IlN1YmplY3QiLCJ2YWx1ZSI6IiIsInZhbHVlX3ByZXNldCI6IiIsImh0bWwiOiJzZWxlY3Rib3giLCJtYW5kYXRvcnkiOiIxIiwibGFiZWxfZGVsaW0iOiIiLCJhZGRfY2xhc3NlcyI6IiIsImFkZF9zdHlsZXMiOiIiLCJhZGRfYXR0ciI6IiIsImljb25fY2xhc3MiOiIiLCJpY29uX3NpemUiOiIiLCJpY29uX2NvbG9yIjoiIiwidGVybXMiOiIiLCJvcHRpb25zIjpbeyJuYW1lIjoiMSIsImxhYmVsIjoiU2l0ZSBDcmVhdGlvbiJ9LHsibmFtZSI6IjIiLCJsYWJlbCI6IkUtQ29tbWVyY2UgQ3JlYXRpb24ifSx7Im5hbWUiOiIzIiwibGFiZWwiOiJMYW5kaW5nIFBhZ2UgQ3JlYXRpb24ifSx7Im5hbWUiOiI0IiwibGFiZWwiOiJTaXRlIFdpdGggU3BlY2lhbCBGdW5jdGlvbnMifSx7Im5hbWUiOiI1IiwibGFiZWwiOiJPdGhlciJ9XX0seyJic19jbGFzc19pZCI6IjEyIiwibmFtZSI6Im5hbWUiLCJsYWJlbCI6IiIsInBsYWNlaG9sZGVyIjoiTmFtZSIsInZhbHVlIjoiIiwidmFsdWVfcHJlc2V0IjoiIiwiaHRtbCI6InRleHQiLCJtYW5kYXRvcnkiOiIxIiwibWluX3NpemUiOiIiLCJtYXhfc2l6ZSI6IiIsImFkZF9jbGFzc2VzIjoiIiwiYWRkX3N0eWxlcyI6IiIsImFkZF9hdHRyIjoiIiwidm5fb25seV9udW1iZXIiOiIwIiwidm5fb25seV9sZXR0ZXJzIjoiMCIsInZuX3BhdHRlcm4iOiIwIiwidm5fZXF1YWwiOiIiLCJpY29uX2NsYXNzIjoiIiwiaWNvbl9zaXplIjoiIiwiaWNvbl9jb2xvciI6IiIsInRlcm1zIjoiIn0seyJic19jbGFzc19pZCI6IjEyIiwibmFtZSI6ImVtYWlsIiwibGFiZWwiOiIiLCJwbGFjZWhvbGRlciI6IkVtYWlsIiwidmFsdWUiOiIiLCJ2YWx1ZV9wcmVzZXQiOiIiLCJodG1sIjoiZW1haWwiLCJtYW5kYXRvcnkiOiIxIiwibWluX3NpemUiOiIiLCJtYXhfc2l6ZSI6IiIsImFkZF9jbGFzc2VzIjoiIiwiYWRkX3N0eWxlcyI6IiIsImFkZF9hdHRyIjoiIiwidm5fb25seV9udW1iZXIiOiIwIiwidm5fb25seV9sZXR0ZXJzIjoiMCIsInZuX3BhdHRlcm4iOiIwIiwidm5fZXF1YWwiOiIiLCJpY29uX2NsYXNzIjoiIiwiaWNvbl9zaXplIjoiIiwiaWNvbl9jb2xvciI6IiIsInRlcm1zIjoiIn0seyJic19jbGFzc19pZCI6IjEyIiwibmFtZSI6Im1lc3NhZ2UiLCJsYWJlbCI6IiIsInBsYWNlaG9sZGVyIjoiTWVzc2FnZSIsInZhbHVlIjoiIiwidmFsdWVfcHJlc2V0IjoiIiwiaHRtbCI6InRleHRhcmVhIiwibWFuZGF0b3J5IjoiMSIsIm1pbl9zaXplIjoiIiwibWF4X3NpemUiOiIiLCJhZGRfY2xhc3NlcyI6IiIsImFkZF9zdHlsZXMiOiIiLCJhZGRfYXR0ciI6IiIsInZuX29ubHlfbnVtYmVyIjoiMCIsInZuX29ubHlfbGV0dGVycyI6IjAiLCJ2bl9wYXR0ZXJuIjoiMCIsInZuX2VxdWFsIjoiIiwiaWNvbl9jbGFzcyI6IiIsImljb25fc2l6ZSI6IiIsImljb25fY29sb3IiOiIiLCJ0ZXJtcyI6IiJ9LHsiYnNfY2xhc3NfaWQiOiIxMiIsIm5hbWUiOiJzZW5kIiwibGFiZWwiOiJMZXQncyBUYWxrIiwiaHRtbCI6InN1Ym1pdCIsImFkZF9jbGFzc2VzIjoiIiwiYWRkX3N0eWxlcyI6IiIsImFkZF9hdHRyIjoiIiwiaWNvbl9jbGFzcyI6IiIsImljb25fc2l6ZSI6IiIsImljb25fY29sb3IiOiIiLCJ0ZXJtcyI6IiJ9XSwib3B0c19hdHRycyI6eyJiZ19udW1iZXIiOiI0In19LCJpbWdfcHJldmlldyI6Imtpd2lmcnVpdC5wbmciLCJ2aWV3cyI6Ijc3OSIsInVuaXF1ZV92aWV3cyI6IjYzMyIsImFjdGlvbnMiOiI0MiIsInNvcnRfb3JkZXIiOiI4IiwiaXNfcHJvIjoiMCIsImFiX2lkIjoiMCIsImRhdGVfY3JlYXRlZCI6IjIwMTktMDYtMDYgMTg6NTA6MDMiLCJpbWdfcHJldmlld191cmwiOiJodHRwczpcL1wvc3Vwc3lzdGljLTQyZDcua3hjZG4uY29tXC9fYXNzZXRzXC9mb3Jtc1wvaW1nXC9wcmV2aWV3XC9raXdpZnJ1aXQucG5nIiwidmlld19pZCI6IjEyXzkyMzIwOCIsInZpZXdfaHRtbF9pZCI6ImNzcEZvcm1TaGVsbF8xMl85MjMyMDgiLCJjb25uZWN0X2hhc2giOiI1YmMwNThmODFjNjJhZWYzYTMyMmM2ZGY2MDdjMTJlZSJ9